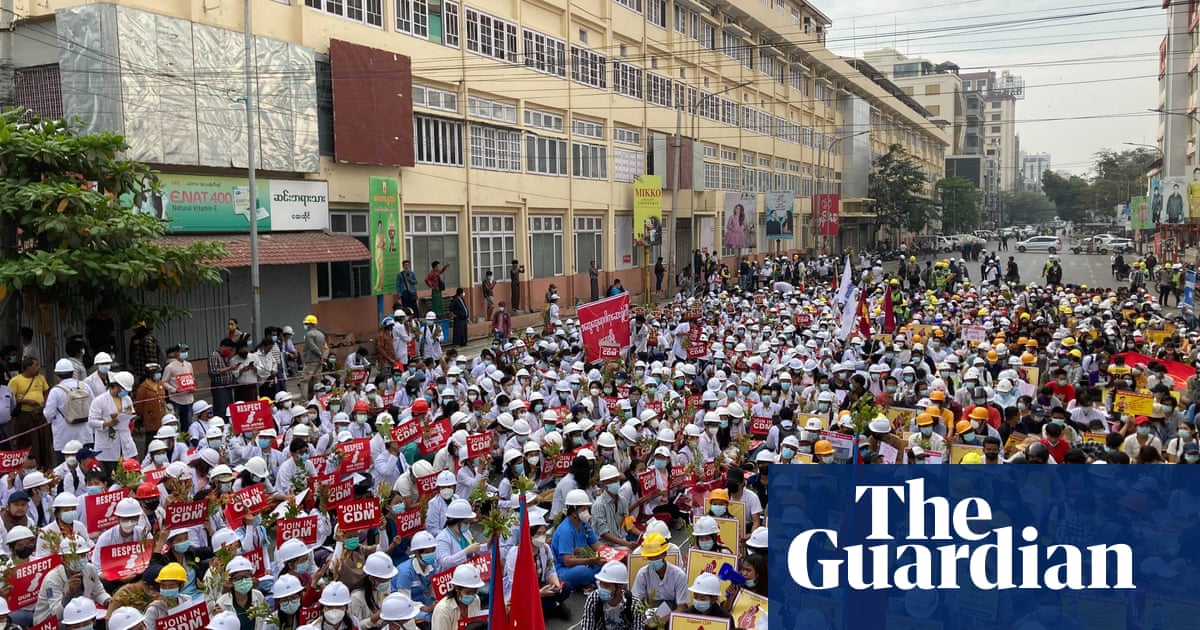 Witnesses have described the moment Myanmar's security forces opened fire on protesters, killing two people, as tens of thousands of people took to the streets again on Sunday in defiance of the military.
A young man and a teenage boy are believed to have been killed in Mandalay on Saturday when police, supported by frontline troops, used live ammunition to break up crowds of protesters opposing the military coup.
The use of deadly force against demonstrators was condemned by the UN, as well as France, Singapore and Britain, while Facebook announced it had deleted the military's main page. It said the army had breached its standards prohibiting the incitement of violence.
Tensions in Mandalay, Myanmar's second biggest city, had reportedly escalated when police and soldiers confronted shipyard employees who were taking part in a national strike.
A 23-year-old protester, who asked to be known by the pseudonym Hla, said she had been printing protest signs at a vinyl shop at the time. Police had promised to retreat if the crowd dispersed, she said, but as the crowd broke up, officers charged with batons and lashed out at demonstrators, including women and children.
Police blocked the roads, forcing her to take refuge in a nearby neighbourhood where she said security forces shot teargas into homes. Hla saw a middle-aged man who was shot in his stomach and knees, she said.
"The bullet went right through and I could see his ligaments," she said, adding that the brutality of the crackdown, even after the crowd followed police instructions, was traumatising. Security forces also shot at ambulances as the injured were being carried away by medical volunteers, Hla said.
"There was so much blood," she said. "When people raised their hands to plead with the police to stop shooting at ambulances, it didn't work. I felt like I had to run for my life."
A local medical worker who attempted to help protesters shared a photo on Facebook in which she is seen next to an injured man whose head is bandaged, sitting in the back of a police truck.
"I pleaded with [the police] to release him or at least give me 15 minutes to stitch his head," she wrote. "But it was no use. I could do nothing but tell him to hang in there and apply some medicine on his injury."
Security forces had shot into homes and monastery compounds, the medic said.
She said of another young man who died after he was shot in the head: "There was nothing I could do … except cry."
At least 30 people were injured in the crackdown. Some of the demonstrators had fired catapults at police, who responded with teargas and gunfire, witnesses told Reuters.
Police in Mandalay were supported by soldiers from the 33rd Light Infantry Division. This unit was involved in brutal atrocities committed against the Rohingya in 2017 – a crackdown that has since led to a genocide case in The Hague.
On Sunday, Hla was among tens of thousands of protesters who took to the streets of Mandalay again to join a memorial for those who were killed.
The fragments of the young man's skull, along with his blood, were still on the street, she said.
"This could be our last revolution. It depends not just on local civilian power but outside help from the UN and US," said another protester, in Myanmar's main city Yangon, where thousands gathered to pay tributes to the victims of Saturday's crackdown.
"How many should be dead until the UN takes action?" a sign in Yangon read.
A funeral was also held on Sunday for a woman who died last week, aged 20, after she was shot in the head by police at a protest in the capital, Naypyitaw.
The army has said one policeman died of injuries sustained in a protest.
In a separate incident on Saturday, a 30-year-old man was killed in Yangon while patrolling the neighbourhood as part of a community initiative to guard against night-time raids by police.
For the past week, the military junta has imposed an internet shutdown every night across the country. The internet blackout has intensified activists' fears that they will taken by the authorities during night-time raids. Many campaigners, journalists and striking civil servants are living in hiding.
At least 569 people have been detained by the military over recent weeks, according to the Assistance Association for Political Prisoners group. Among them is the prominent actor Lu Min, who was taken in the early hours of Sunday morning, his wife, Khin Sabai Oo, said on Facebook.
"They forced open the door and took him away and didn't tell me where they were taking him. I couldn't stop them. They didn't tell me," she said.
Lu Min was one of six celebrities wanted under an anti-incitement law for encouraging civil servants to join protests. Over recent weeks workers from across Myanmar – including railway staff, doctors, teachers, bank employees and factory workers – have gone on strike as part of a civil disobedience movement that aims to paralyse the military junta.
Aung San Suu Kyi, who faces two charges including an allegation of illegally importing walkie-talkies, remains under house arrest.
The US, Britain, Canada and New Zealand have announced limited sanctions since the coup, with a focus on military leaders.
Facebook said it had deleted a page belonging to the military's propaganda agency under its standards prohibiting the incitement of violence.
"In line with our global policies, we've removed the Tatmadaw True News Information Team Page from Facebook for repeated violations of our Community Standards prohibiting incitement of violence and coordinating harm," Facebook said.
EU foreign ministers will meet on Monday to discuss their own measures against the regime.
Reuters contributed to this report