Germany will contribute an additional 1.5bn euros to support global Covid-19 vaccination efforts and other programmes to fight the pandemic, increasing its overall pledge to 2.1bn euros, finance minister Olaf Scholz said on Friday.
Reuters reports:



"We can only get out of the pandemic with vaccinations. We need to make progress on this, at home and abroad," Scholz said, adding that the additional money was meant to support the COVAX program, the Word Health Organisation (WHO) and other international efforts.

"With today's announcement we make clear: We're standing side-by-side with the poorest countries," Scholz said.

The German contribution would increase international funds for vaccines, drugs and tests by over 30 percent, he added. "We'll only be safe if there is immunisation through vaccination all over the world," Scholz said.

US president Joe Biden was expected to use his first meeting with leaders of Group of Seven advanced economies on Friday to announce an immediate $2 billion donation to the COVAX program co-led by the WHO. COVAX aims to ensure a fair supply of coronavirus vaccines around the world.

The United States will provide an additional $2 billion over the next two years as other nations fulfill and make their own pledges, US officials said.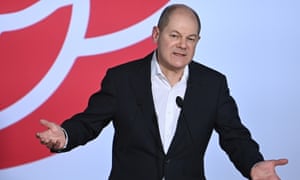 UK teaching unions have rejected Boris Johnson's plan to reopen schools in England on 8 March.
This from the Sunday Times' Sian Griffiths:
PA reports:



The prime minister should opt for a "phased return" of school and college pupils to classrooms in England or risk another spike in Covid-19 infections, a coalition of education unions has warned.

Unions representing school and college staff and headteachers are "increasingly concerned" that the government could go ahead with a full return of all pupils in England on 8 March.

A joint statement says: "This would seem a reckless course of action. It could trigger another spike in Covid infections, prolong the disruption of education and risk throwing away the hard-won progress made in suppressing the virus over the course of the latest lockdown.

"The science around the role that schools play in the overall rate of transmission is uncertain. What we do know is that the full reopening of schools will bring nearly 10 million pupils and staff into circulation in England – close to one-fifth of the population. This is not a small easing of lockdown restrictions. It is a massive step.

"These factors necessitate a cautious approach with wider school and college opening phased over a period of time."
A longer-range Canadian forecast shows new variants of Covid-19 will increase the threat of a spring resurgence unless enhanced public health measures are maintained, health officials said on Friday.
The officials said new modeling showed the domestic death toll could be between 21,510 and 22,420 by 28 February, with total cases ranging from 841,650 to 878,850.
"We're not going to vaccinate our way to getting Covid off the face of the earth," warned Dr Zain Chagla, an infectious disease specialist and professor at McMaster University in Hamilton.
"The virus has been circulating in people for too long for us to eradicate it with a vaccine," said Alyson Kelvin, a vaccinologist with VIDO-InterVac in Saskatoon, CBC reports.
Angela Rasmussen, a virologist at Georgetown University's Center for Global Health Science and Security in Washington, DC, told the outlet: "I think that we've been very short-sighted in how we've thought about vaccination as a control strategy on a national scale rather than a global one."
The South African variant of coronavirus is now present in Poland, the country's health minister, Adam Niedzielski, said on Friday, as Poland braces for a third wave of the pandemic.
"In addition to the British variant, the South African variant has appeared," he told a news conference.
Poland on Friday reported 8,777 new coronavirus infections and 241 more deaths, bringing its total number of cases to 1,623,218 and the total official death toll to 41,823. On Thursday Poland confirmed 9,073 new infections and further 273 deaths.
Of the new cases confirmed on Friday, 1,427 were in the central region of Mazowieckie, which includes the national capital, Warsaw.
Turkey aims to procure 105m doses of Covid-19 vaccines by the end of April, its health minister said on Friday, adding that Ankara would also receive about 800,000 doses of the shots developed by Pfizer and BioNTech this month.
Citizens would be able to choose between the China's Coronavac jab and the Pfizer/BioNTech vaccine once the latter had been delivered, the country's health minister said.
Reuters reports:



Ankara started a nationwide vaccination programme last month that has so far administered a first dose to some 5.5 million people. More than a million people have received the second dose of the vaccine developed by China's Sinovac Biotech Ltd, according to health ministry data.

Speaking to the Sabah newspaper, health minister Fahrettin Koca said Turkey planned to procure a further 105 million doses by the end of April, but did not specify which vaccines would be obtained. He said Turks would be given the option to choose between the Sinovac and BioNTech shots once both are available.

"By the end of April, a procurement of 105m vaccine doses is being planned," Koca said. "It is expected that around 800,000 doses of [BioNTech] vaccines will arrive this month," he was quoted as saying.

Koca said Turkey was preparing to administer 35m shots in March.

"Citizens whose vaccination turn arrives will be presented this option. Their confirmations will be received. This vaccine will also especially be offered to the group of 60 year-olds and younger," he said, referring to BioNTech's shots.

Turkey has ordered 50m doses of Sinovac's Coronavac and has been in talks to buy shots developed by other companies.

Ankara has so far received 13m doses of Coronavac, but no BioNTech shots.

Turkey has reported more than 2.6m cases and nearly 28,000 deaths from Covid-19 since March. In December, it imposed weekend lockdowns, nightly curfews and other curbs in the face of rising cases.

Turkey's president, Recep Tayyip Erdoğan, said on Wednesday that Turkey wiould begin a gradual return to "normal life" in March on a province-by-province basis.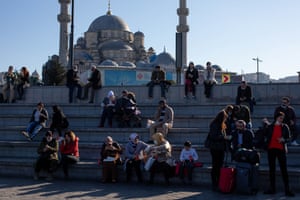 Palestinians in the West Bank and the Gaza Strip have received 1,000 doses of the Russian Sputnik V vaccine, Haaretz reports, though it may take at least a few more months for their campaigns to reach enough members of the population.
The West Bank has recorded 1,617 Covid-19 deaths to date, while 538 people have died in Gaza.
5,509 Israelis have died of the virus. Israel just emerged from its third nationwide lockdown, but inbound and outbound flights remain suspended until at least 6 March, with few exemptions.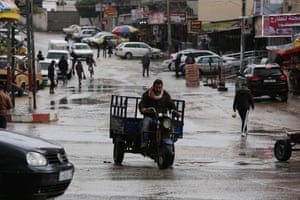 Spain has given a full two-shot course of coronavirus vaccines to almost all its elderly nursing home residents, the FED care home association said on Friday.
Prime minister Pedro Sanchez said the country, which has administered 2.8m doses and fully inoculated 1.14 million people, was on track to vaccinate 20 million people in the first half of 2021 out of a population of 47 million.
Reuters reports:



Nearly 43,000 care home residents died of Covid-19 or suspected infection in the devastating March-May first wave of contagion, and prosecutors are investigating more than 200 cases of potential criminal negligence at such homes.

But more than 97% of residents have now been vaccinated across Spain's 17 regions, according to the FED, putting nursing homes among the country's safest places.

"They are very positive data that allow us to be optimistic about the future," said FED's president, Ignacio Fernández-Cid. "Immunity will allow us to gradually return to the longed-for lost normality."

Health emergency chief Fernando Simón said earlier this week that for the first time since the start of the pandemic, people over 65 who live in care homes have a lower rate of infection than those who live outside, supporting the thesis, if indirectly, that the vaccines are having an effect.

Frontline medics and care workers are the only people under 65 to receive a vaccine so far.

Spain will now give shots made by Pfizer-BioNTech and Moderna to people over 80, while AstraZeneca's drug will go to key workers under 55.

With a third wave quickly receding, Spain's two-week infection rate hit 321 cases per 100,000 people on Thursday, from almost 900 cases at the end of January, prompting several regions to relax measures.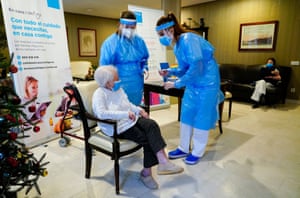 The number of new Covid-19 infections in the UK is shrinking by 3% to 6% each day, faster than last week, the government said on Friday, adding that the closely-watched reproduction (R) number might be slightly lower, too.
The daily growth rate in infections was estimated at between -6% and -3%, down from a range of -5% and -2% last week.
The R number was estimated at between 0.6 and 0.9, meaning that that, on average, every 10 people infected will infect between 6 and 9 other people.
Last week the estimated range was between 0.7 and 0.9.
The British government broke the law by failing to publish details of billions of pounds of spending on personal protective equipment (PPE) during the coronavirus pandemic, a London court ruled on Friday.
Reuters reports:



As Covid-19 swept across the world last year, Britain scrambled to secure protective gear for medics and nurses on the front line.

The Good Law Project, a campaign group, and three opposition politicians brought a judicial review seeking details of undisclosed deals with firms that had no medical procurement expertise and, in some cases, delivered defective protective equipment.

A judge at a London High Court said the Secretary of State for Health, Matt Hancock, failed to comply with a public procurement law that requires the government to publish contract awards within 30 days.

"The Secretary of State spent vast quantities of public money on pandemic-related procurements during 2020," the judge said. "The public were entitled to see who this money was going to, what it was being spent on and how the relevant contracts were awarded."

The health ministry said it had needed to move within very short timescales and against unparalleled global demand.

"This has often meant having to award contracts at speed to secure the vital supplies required to protect NHS (National Health Service) workers and the public," a spokesman said.

"We fully recognise the importance of transparency in the award of public contracts and continue to publish information about contracts awarded as soon as possible."

The National Audit Office said last year there had been a lack of transparency and a failure to explain why certain suppliers were chosen, or how any conflict of interest was dealt with, in procurement deals between March and the end of July worth about 18 billion pounds.

Opposition politicians have accused the government of running a "chumocracy" with contracts, including for the purchase of what turned out to be unusable PPE, and appointments made to those with family or business links to those in power.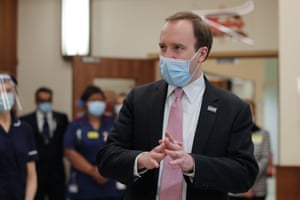 One of the South African government's top advisers on Covid-19 vaccines said on Friday that the Pfizer-BioNTech shot was "still a very good vaccine," despite a study showing the dominant local virus variant may reduce protective antibodies elicited by it.
Barry Schoub, the chairman of the ministerial advisory committee on vaccines, told Reuters that the two-thirds reduction in protective antibodies mentioned in the study "means there is quite a significant remnant neutralising potency".
Sweden registered 4,144 new infections on Friday, as well as 51 further deaths from Covid-19.
On Thursday, the country recorded 4,920 cases, and 3,834 new cases a week ago.
Between the first and second week of February, the number of confirmed cases of coronavirus rose by 24.1 percent in the Stockholm region, healthcare director Björn Eriksson said on Wednesday.
"This is very worrying and could be a sign that we are entering a third wave […] We are getting signals that residents are no longer following the Public Health Agency's recommendations to the same extent," Eriksson warned.
The UK variant, B.1.1.7, is also increasing in all of Sweden's regions, the Public Health Agency said during Thursday's briefing, the Local reports.
Nationwide, ten percent of tests for coronavirus gave a positive result last week, and 411 cases were confirmed per 100,000 residents over the past two weeks, an increase from last week.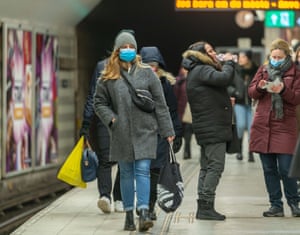 Here a little more detail on the Czech government's decision to drop plans to reopen all retail shops from next week due to rising infections.
Reuters reports:



The country of 10.7 million has Europe's highest infection rate with 968 new cases per 100,000 people on a two-week basis, according to data from the European Centre for Disease Prevention and Control (ECDC).

Health Minister Jan Blatny said the Covid-19 situation had "significantly worsened".

"Because of that, the government agreed that the original idea for opening some shops won't happen on Monday (as planned)," he told a televised press conference.

[…]
Blatny said people would be required from Monday to wear higher quality respiratory masks known as FFP2-grade in shops, public transport and hospitals. Only shops selling food and other goods deemed essential are currently open.
The government is also bracing itself for a crisis in hospitals, as the country's number of available hospital beds is rapidly dwindling.
Czech Radio reports:



The government is preparing a crisis scenario for hospitals which are no longer able to take in patients or are nearing their capacity limit.

Health Minister Jan Blatny said on Friday that lighter cases that still need medical care could –in the event of need – be treated in makeshift health facilities set up in gyms.

Earlier the minister also spoke of using spas for this purpose. Should the spread of the infection get worse the government may also order specialists in outpatient clinics and medical students to help out in hospitals.
Johnson & Johnson said on Friday it had submitted for emergency use listing of its Covid-19 vaccine to the World Health Organization (WHO).
The company said the process was a prerequisite to supply vaccines to the Covax vaccine program co-led by WHO, which aims to deliver doses to poor and middle-income countries.

J&J entered into an agreement in December in support of the Covax programme, Reuters reports.
The company and Gavi, which also co-leads Covax, expect to enter into an advance purchase agreement that would provide up to 500m doses of the single-dose vaccine to Covax through 2022, J&J said.
The half-dozen charities distributing food in Paris say the number of students seeking help has jumped since the government put France back under lockdown and then a nightly curfew late last year, Reuters reports.
Tens of thousands of food parcels are handed out each week in the greater Paris region alone and it is a similar situation elsewhere, they say.
The government has extended a publicly-funded scheme providing one-euro meals to those on grants and made it available to all students.
Three in every four French students felt alone some or all of the time, one opinion poll showed last month.
Students have protested against a government they say has abandoned them.
Government spokesman Gabriel Attal this week said the poorest students had received emergency grants, money had been released for psychological counselling and the president wanted all students to be able to attend lectures in person one day a week.