Just as Trump dodged testifying at his trial – he would have been his own damning, incriminating witness – Republican senators will dodge the issue of Trump's guilt by relying on a bogus process argument about convicting a former president. Trump's expected acquittal will come because of his continuing hold over a potent share of Republican voters, about 75 per cent of whom believe Trump was cheated. Because of Trump, there is now a surge of nihilist conspiracists throughout grassroots Republican ranks.
Trump is determined, just as he was with those who prosecuted his first impeachment in the Ukraine affair, to punish his enemies for their treason. Last year he purged the government of the witnesses to his crimes. He now wants to end the careers of those Republicans who had the temerity to accept the election result and support his second impeachment. And the Republican members of the House and Senate know it.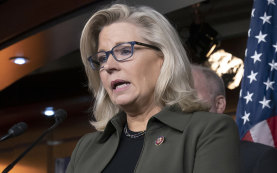 Liz Cheney, daughter of former vice president Dick Cheney, as blood-red a Republican as can be, was the target of a rally convened in her Wyoming electorate by a Trumpist Republican congressman seeking to oust her in 2022. At least the Australian Prime Minister dealt directly with Craig Kelly – the House Republican leader in the US will not denounce the QAnon in his ranks. Bob Woodward didn't call his first book on Trump in the White House Fear for nothing.
This civil war that Trump has instigated in the Republican party carries sharp risks. As the Murdoch-owned Wall Street Journal editorialised last week: "If bowing before all things Trump is the litmus test for being a loyal Republican, the party should get used to continued losses in the suburbs. The main goal of the House minority is to become the majority, and in 2022 Republicans should have an excellent chance. But they'll squander it if they purge serious Members like Liz Cheney and let themselves be defined by conspiracy theorists".
This is why Biden's presidency is on trial too. If he fails to deliver on the vaccination program this year and fails to jump-start the economy and deliver jobs to the millions who are unemployed, he will be crippled for the duration of his term in office. And the Republicans know it – and therefore feel no need to back off their headlong embrace of extremism. The midterm elections next year traditionally punish the party holding the White House. The Republicans need a net gain of only six seats in the House, and just one in the Senate, to win control of Congress. What is the incentive for them to be truly bipartisan on Biden programs that voters will reward him for?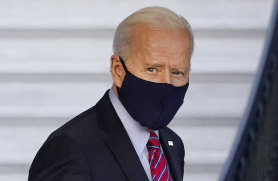 Loading
This is why Biden is determined to go big and go now – however he can get there – to get the vaccine and economic stimulus in place, without Republican votes should they diddle with him. Even as the defeated Trump, whether he is acquitted or convicted, becomes a martyr to the Republican base, Biden knows that if he fails on vaccines and making America healthy his presidency is lost too – he will be unable to leverage the votes in Congress to do the other big things on racial justice, climate change, and immigration.
This is the lesson Biden draws from Barack Obama's setbacks in living with a too-tepid recovery program during the financial crisis of 2009. Republicans refused to go with what the economy needed. And Obama and the Democrats acceded to them and took a huge political hit. Biden has no intention of being guilty of repeating that mistake.