Dutch police have said they arrested 25 people and handed out 3,600 fines for violations of a nighttime curfew which went into effect yesterday, with a fresh protest planned today, Reuters reports.



A protest against lockdown measures is planned for Sunday afternoon on Amsterdam's Museum Square, and mayor Femke Halsema designated the area as a "high-risk zone" to give police the power to frisk people for weapons.

Last Sunday, protesters clashed with riot police on horseback on the square, leading to the detention of 143 people. Parliament voted narrowly last week to approve the curfew, swayed by assertions that an English variant is about to cause a new surge in cases. New infections in the country have generally been declining for a month.

Police said those who were arrested on Saturday night were people who refused to go home or who committed acts of violence. A group of youths in the fishing village of Urk threw fireworks and rocks at police and burned down a temporary COVID-19 testing centre.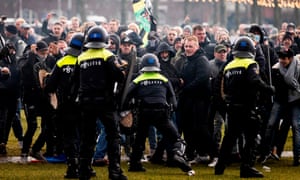 Zambia has been allocated 8.7 million doses of the 270 million Covid-19 vaccines secured this month by the African Union (AU), and this may rise to 25 million doses by December 2021, the Zambian mission at the AU has said, Reuters reports.



South African president Cyril Ramaphosa, who serves as AU chair, has said the vaccines secured by the AU will be supplied by Pfizer, AstraZeneca, through the Serum Institute of India, and Johnson & Johnson. They will be allocated according to countries' population size.

"If member states have to buy individually, they have to wait until July 2022, but through this mechanism, we can access the vaccines by April 2021," Zambia's ambassador to Ethiopia and permanent representative to the AU, Emmanuel Mwamba said in a statement. "The vaccines will require approval from the Africa [Centres for Disease Control and Prevention] and further approval from local regulatory and other approval mechanisms."

The 8.7 million doses will be the Pfizer and AstraZeneca vaccines and Zambia's allocation may rise to 25 million doses by December 2021 when the J&J vaccine comes on board, Mwamba added. African countries will pay between $3 and $10 per vaccine dose to access the shots secured by the AU, according to a draft briefing on the plan prepared by the African Export-Import Bank and provided to Reuters.

Zambia, with a population close to 18 million, has 45,337 COVID-19 cases and 639 people have died from the disease.
The shadow home secretary Nick Thomas-Symonds has called for quarantine hotels for incoming travellers to the UK and criticised the manner in which coronavirus response services have been outsourced – though without providing a comprehensive alternative.
He told Sky News:



We need now to put additional protections in place. We do need that effective border testing regime. And we also need an effective quarantining regime, which we've not had. The government did not introduce a comprehensive quarantining regime until June last year. The UK was an international outlier. Back in May last year, it was only the UK, Iran, Luxembourg and the US Virgin Isles that had no travel protections in place.

The government introduced a quarantining system far too slowly in June of last year. The government's own figures show that between June of last year and September around about two million people had their passenger locator forms, their details if you like, spot-checked by Border Force at the border. Only around 3% of those were successfully contacted to ensure they were quarantining, now that just isn't good enough, it isn't effective. The government hasn't had a grip on this situation throughout. We desperately need them to get a grip and have that comprehensive plan in place.

The Labour government would have taken a very different approach to the set-up of the quarantining system in the first place. The government's 'Isolation Assurance Service' decided to outsource this system to a company called [Sitel]. The government's own target of contacting 20% of those coming into the UK hasn't been met… isn't nowhere near that. We would actually have used a far more effective system, wouldn't have outsourced it in the way the government has and we would have acted more quickly. I've been raising the issue of border protections from last April.

The government needs to introduce quarantining hotels and have an effective testing system in place. And it needs to avoid the situation that we've seen over the weekend of those crowds and crowds of people at Heathrow airport. That's happening because the government does not have this strategy in place.
Scotland's deputy first minister John Swinney says he cannot rule out tougher restrictions, as he revealed that the use of higher grade face coverings, for example, is being "actively explored".
Swinney told Sunday Politics Scotland that there had been a reduction of about a third in the level of cases in the past fortnight which is "very encouraging given the very alarming acceleration in cases which took place just after Christmas.



We are making progress under the measures we have in place. We will continue to look at what else might be possible to continue that progress.
Asked about return to schools, he said that he hoped to give two weeks' notice to parents about return to face to face learning, and that the Scottish government was exploring the earlier return of particular groups including early learning and childcare, younger primary pupils, older pupils doing national qualifications and those with additional support needs.
A GP has described the extended time between doses of coronavirus vaccinations in the UK as an "unregulated and unlicensed trial".
Dr Rosie Shire, a member of the Doctors' Association UK, told Sky News that studies of the Pfizer/BioNTech vaccine show two doses three weeks apart gave 90% immunity.



What really concerns us is we don't know what happens if you don't give that second dose of vaccination after three weeks. The fact is that people are being vaccinated now and being put into what is effectively an unregulated unlicensed trial, whereby they're receiving this vaccination on the understanding that they don't know what's going on."
She added that while three quarters of all people over 80 in the UK have been given the first dose of a vaccine, this does not mean they are fully vaccinated.
Doctors "don't know" if people were going to be fully vaccinated once they receive the second dose after the 12-week period between doses, Shire said.
The EU will make pharmaceutical companies respect contracts they have signed for the supply of Covid vaccines, European Council president Charles Michel has said amid growing frustration over significant delays to agreed schedules.
Pfizer last week said it was temporarily slowing supplies to Europe to make manufacturing changes that would boost output. On Friday, AstraZeneca also said that initial deliveries to the region would fall short because of a production glitch.
"We plan to make the pharmaceutical companies respect the contracts they have signed … by using the legal means at our disposal," Michel said on Europe 1 radio.
He did not mention possible sanctions but said that the EU would insist on transparency about the reasons for the delays. He said that after Pfizer's first warnings about delays of several weeks, the EU had managed to reduce these delays by taking a tough stance.
"We banged our fist on the table and finally announced delays of several weeks turned into a slowdown of deliveries," he said.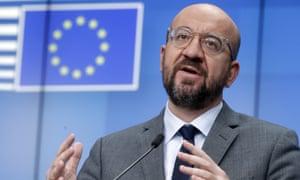 More than £15,000 in fines were issued after 300 people were caught at a rave in east London, UK, in breach of Covid regulations, police have said.



Having received intelligence that an unlicensed music event might be taking place in Hackney on the night of 23 January, officers were deployed to the area. Shortly after 01:30hrs, they found an event underway in a railway arch in Nursery Road, E9. There was loud music coming from inside and it was that a significant number of people were present.

Additional resources were deployed, including public order officers, a dog unit and the police helicopter. Numerous attempts were made to engage with organisers and others but they were uncooperative. At one point the doors were padlocked from the inside to stop police getting in. When officers forced entry, they found an estimated 300 people packed inside the small space. Dozens scaled fences at the rear of the arch and others forced open a gate to get away from officers. 78 people were stopped and issued with fixed penalty notices to the value of £200 for breaching Covid regulations by attending an illegal gathering.
Ch Supt Roy Smith, who attended the incident, said:



This was a serious and blatant breach of the public health regulations and the law in relation to unlicensed music events. Officers were forced, yet again, to put their own health at risk to deal with a large group of incredibly selfish people who were tightly packed together in a confined space – providing an ideal opportunity for this deadly virus to spread.
We'll bring you any more information on this as it emerges.
Asked why Scotland's vaccine rollout was initially slower than elsewhere in the UK, Nicola Sturgeon said that the Scottish government had taken a deliberate decision, in line with JCVI advice, to focus initially on care home residents. She pointed out that Matt Hancock told Marr that three-quarters of those in England had been vaccinated – in Scotland that figure is now 95%.
"It takes longer, it's more resource intensive to do care homes, but it's the right decision," she said. She added that 40% of over 80s in Scotland had now been vaccinated and that the Scottish government was "well on track to complete all over 80s by the beginning of February." She said that over 70s will start getting their appointments from tomorrow.
She said that 400,000 doses had now been administered in Scotland, while the remaining doses in Scotland's 700,000 allocation were being distributed to health boards and GPs.
The deputy chair of the Joint Committee on Vaccination and Immunisation (JCVI) has said it is examining data from Israel indicating that immunity after a first dose of Covid-19 vaccine could be as low as 33%.
Prof Anthony Harnden told Sky's Sophie Ridge On Sunday:



The Israeli data is preliminary data, it does involve PCR testing which is of course asymptomatic cases as well as symptomatic cases. They have not followed up for more than three weeks and the statistical methods they used are not clear. We will be looking at this in detail but at the moment our clear steer is the delayed second dose strategy is going to save many lives nationally.
He added that people could end up needing an annual coronavirus shot to keep up with variations in the virus.



We may well be in a situation where we have to have an annual coronavirus vaccine much like we do with the flu vaccine, but the public should be reassured that these technologies are relatively easy to edit and tweak, so once we find strains that are predominant, the vaccines can be altered.

At the moment it is really good news that these vaccines we are delivering at the moment do seem to be effective against the major circulating strains and the variant strains in the UK at the moment.
Asked why Israel is not vaccinating Palestinians in the country and under occupation in the West Bank – despite the United Nations saying it is their legal obligation to ensure they have access, and pressure from senior rabbis to act – Edelstein says it is prioritising its own citizens.



As far as the vaccination is concerned, it's the Israel obligation first and foremost to its citizens. They pay taxes for that don't they, but having said that I do remember that it is our interest – not our legal obligation – to make sure Palestinians get the vaccine. That they won't have Covid-19 spreading.

First of all, we could also look to the Oslo agreements where it says loud and clear that Palestinians have to take care of their own health. If it's the responsibility of the Israeli health minister to take care of the Palestinians, what exactly is the responsibility of the Palestinian health minister – to take care of the dolphins in the Mediterranean?

When the Palestinians turned to us, I authorised passing some vaccines to those medical teams who directly work with corona patients in the Palestinian authority and as you can here in this interview, its not because I think that we have a legal obligation, its because they're doctors and nurses and they [hadn't got] the vaccine at this stage.
After Israel's health ministry this week rowed back on comments by the country's coronavirus tsar, who suggested single doses of the Pfizer Covid-19 vaccine had not given as much protection against the disease as had been hoped, the country's health minister has said there have been cases among those inoculated.
Yuli Edelstein told the BBC's Andrew Marr show:



We're just in the beginning of the campaign, we unfortunately do see cases that after getting the first dose, people do get sick, get the coronavirus. At the same time there are some encouraging signs of less severe diseases, less people hospitalised after the first dose. At this stage its very difficult to say, its not a clinical trial yet … We sincerely hope we will have better information soon.

We still have a very small number of those who we consider fully vaccinated, meaning a week after the second dose, according to Pfizer's instructions … We decided to follow their instructions.

We have nearly 28% of the population is under the age 16. Of the rest of the population, we want to get to very high numbers, probably to 80%, and then we'll be able to talk about something that reminds herd immunity. We do have to keep in mind that those who recovered from Covid are not being vaccinated, we consider them at this stage immune.

Vaccination is not a panacea … Corona is still with us and we'll have to live with this reality for a long time.
Germany will become the first EU country to start using the same experimental antibodies treatment credited with helping Donald Trump recover from Covid-19, health minister Jens Spahn has said, AFP reports.



"The government has bought 200,000 doses for 400 million euros ($486 million)," Spahn told the Bild am Sonntag newspaper, working out at 2,000 euros per dose. The so-called monoclonal antibody cocktails will be deployed to university hospitals in the coming week, he said, adding that Germany was "the first country in the EU" to use them in the fight against the pandemic.

Spahn did not name the manufacturer that will be supplying the drugs but confirmed it was the same medicine given to then-US president Trump when he fell ill with Covid last October. "They work like a passive vaccination. Administering these antibodies in the early stages can help high-risk patients avoid a more serious progression," Spahn said.

Trump, who was briefly hospitalised with the coronavirus, was given the antibody therapy developed by US firm Regeneron, known as REGN-COV2, even before the treatment had won regulatory approval. He later said the medicine did "a fantastic job". US company Eli Lilly has developed a similar therapy.

The novel treatment is a combination or "cocktail" of two lab-made antibodies: infection-fighting proteins that were developed to bind to the part of the new coronavirus that it uses to invade human cells. The antibodies attach themselves to different parts of the virus's spike protein, distorting its structure – similar in a way to knocking a key out of shape so it no longer fits its lock.
Speaking on BBC's Andrew Marr programme, the UK shadow foreign secretary has said – in response to a question about whether the country should close its borders to countries without high vaccine coverage in the future – that the government needed to take tougher measures.



There is no question we need to take border security much more seriously … We would fully expect the government to bring in tougher quarantine measures, a proper testing strategy and check up on the people quarantining. Only three in 100 people who come into the UK have any checks on quarantining.